Don't you just hate how somebody can just take the wind out of your sails? Sure, you're not supposed to let them have that power over you, but that's MUCH easier said than done.
Current Mood:

cold

Current Music:

a snoring cat
In three words, how would you describe Lady Gaga?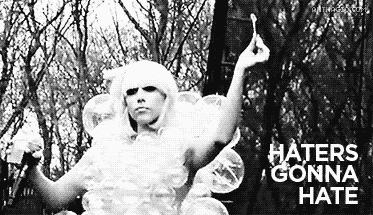 Current Mood:

bubbly
Current Mood:

and I jizzed in my pants
Umm. Who would be my rival? Well, to have a rival, you must have some field in which the two of you compete, and I'm not terribly competitive...unless I'm competing with someone for the purpose of getting their attention. As in "Well, well, I suppose if you're going to be the best, then you'll have to outdo me...We can't have that, can we?"
I'm a lot more likely to deliver melodramatic lines like that in person than through the mouth of any character I write.
So, you see, to me it's all about who I'd compete with and not the form of competition...
(
The Hetalia character I'd most like as my rival is...
Collapse
)
IT'S MY HOT JOURNAL I DO WHAT I WANT
Current Mood:

Nyanyanyanyanyanyanya!

Current Music:

The Saltwater Room by Owl City
If you arrived at your front door and saw your first love standing there, what would you do or say?
"Please don't tell me you're with the health department now; that is the absolute
last
thing I need."
It'd be a pretty out-there situation. He never cared that much about me.
Current Mood:

pessimistic

Current Music:

Time Travel by Ann Sally
Current Mood:

lazy

Current Music:

Bring Me Edelweiss by Edelweiss
If you could be a guest on any talk show, which would you choose and what would you talk about?
Colbert Report, fractal geometry. Stephen Colbert seems like a Euclidean kinda guy.
Current Mood:

silly

Current Music:

Lollipop by Mika
Yesterday, my dad told someone I was strong. It surprised me a little, because it feels like I've been anything but. I'm just not taking care of myself how I should, and whenever I get the chance I distract myself with my computer or DS. Today I walked into Barnes and Noble, scoped out the manga section, and didn't want to buy
Current Music:

Don't Do Me Like That by Tom Petty and the Heartbreakers
FMB damn it, I've probably aged several years in the past week. I don't like it, it's all kinds of scary, but I'm gonna just take a deep breath and listen to the sassy gay angel who sits on my shoulder.
Current Mood:

Apprehensive